Our Staff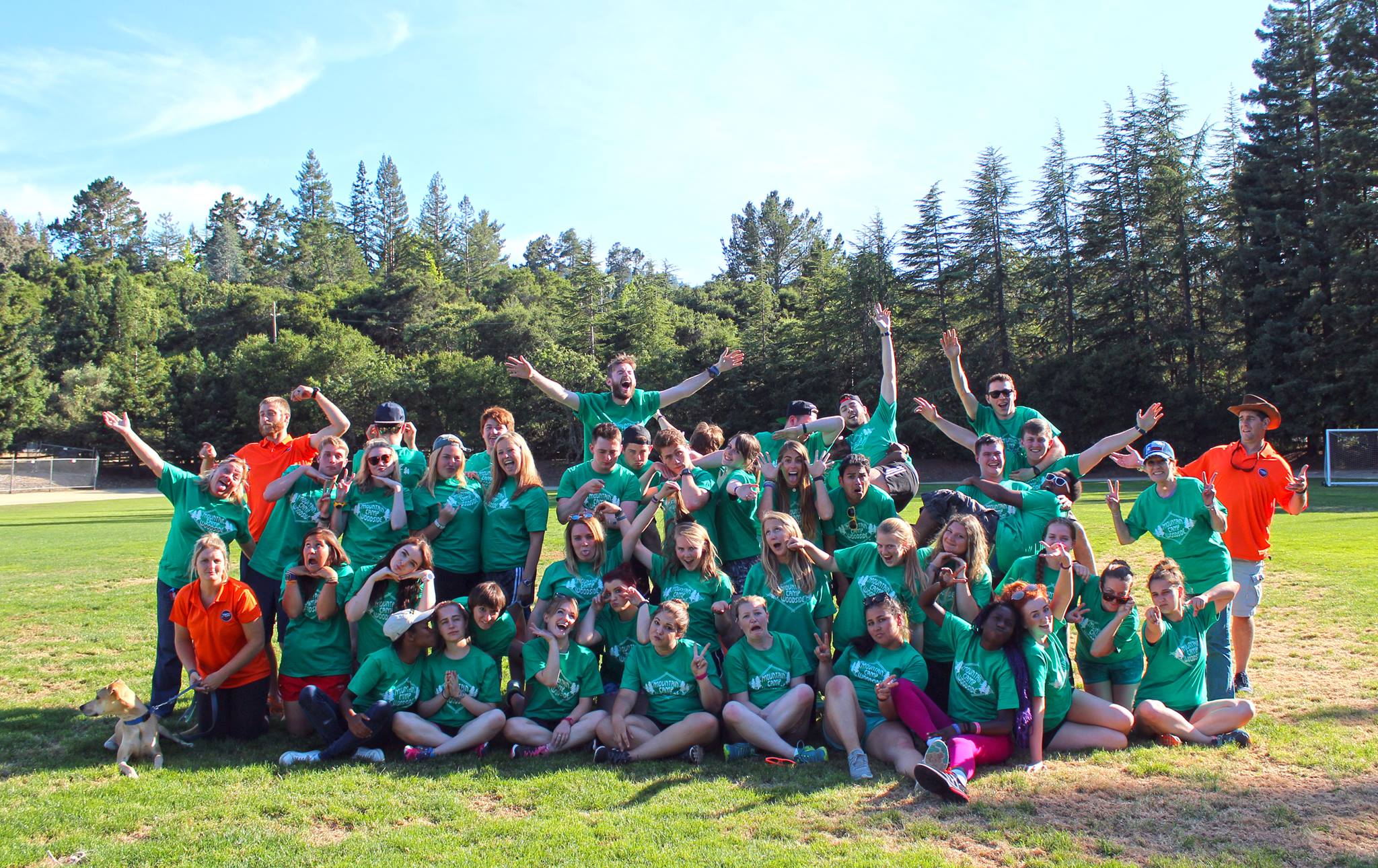 Our highly qualified staff is truly the heart of the program. Each staff member is hand-picked based on their experience, enthusiasm and their ability to be an excellent role model. We recruit counselors from as close as Palo Alto and as far as Austrailia, the United Kingdom, and other places all over the world and we believe that the unique atmosphere created by this cultural exchange adds to our camp experience.
Our staff members work hard to ensure each day is a success for each camper. We do thorough background and reference checks and all staff participate in a comprehensive staff training program. Each member of our staff is CPR and First Aid certified.
Safety is our top priority at Mountain Camp Woodside and we have an excellent safety record. We have a nurse on call for emergencies and Stanford University Hospital in Palo Alto, CA is just five miles from our site.
Meet some of our 2017 Staff.
CHLOE - CUB COORDINATOR

Chloe is returning to MCW for her second summer as Cub Coordinator, after having the summer of her life last year.

Chloe is an Aussie girl and has been traveling for the better part of 3 and a half years, spending time in Canada, the US, Central America, the UK, Thailand, Indonesia, Japan, and even exploring her home country. Workinf with children is Chloe's passion and she is looking forward to another incredible summer at Mountain Camp Woodside with her adorable cubs!

PETE - BLAZER COORDINATOR.

Back for his third summer at Mountain Camp Woodside, Pete cannot wait for the fun and games to begin! Pete is currently studying a PHD at the University of Liverpool, England and is ready to be a part of another unforgettable summer. Pete is most looking forward to seeing the campers have a spectacular summer, try new activities and become great young people. In his spare time Pete enjoys, soccer, athletics, swimming, hiking and most things active. Also, Pete doesn't shy away from singing loud and proud, so expect to hear his perfect voice reverberating around MCW all summer long!

HANNAH - TRACKER COORDINATOR

Hannah is returning this summer for the 2nd time running and she is so excited to be back as the Tracker Coordinator! Hannah lives in London, England but is currently studying BA Film (Hons) in her second year at Falmouth University in the Cornish countryside! Apart from her love of doing accent impressions of her fellow campers and performing silly characters at campfires, Hannah spends her days practicing all styles of dance, swimming in the cold cornish sea, going on long walks and going to the cinema to help with her film studies of course. What she loves most about camp is spending every day outside being active, being inspired by the kids energy and making life long friends. She can't wait to meet all the new people that will join the Mountain Camp family!

POPS - ALPINER COORDINATOR

This will be Pop's fourth summer at Mountain Camp Woodside, she has done a little bit of everything and this summer she will be back as Alpiner Coordinator. She will also be overseeing the CIT program and digital media. Originally from Watford, England, she spent three years living and working in Canada and Australia, and most recently she has been working at Camp America in London. She loves snowboarding, travelling and usually has a camera attached to her face! She is excited to get back to camp for another amazing summer, hoping to make the kids summers, the best ever!

JAMES - CIT COORDINATOR

Hi, my name is James and I'm from the UK. This will be my first time working at a summer camp. I am going to be working as a camp counsellor. Having graduated last year from the university of the Highlands and Islands in Scotland with a degree in Sports Managment and a Diploma in Sports Coaching. I am currently pursuing a career as a sports coach. I have been doing it for five years and have worked with a number of different rugby clubs and schools, I have also the experience of running and planning holiday and weekend clubs back home. working with all different age groups. I'm looking forward to all camp has to offer, make new friends, try new things, work with great kids and embrace all that camp and American culture has in store for me. ROLE ON SUMMER 2017 !!!

SPUD - HEAD BOY

This is Scott's third year at camp but you'll know him by the name Spud. Spud comes all the way from Yorkshire in England which you'll no doubt hear him talking about with fondness. Spud is into all things sport from soccer, tennis, basketball to dodgeball. You'll always hear him talking about his beloved Sheffield Wednesday. Currently studying at university his ambition is to become a first grade teacher which was made clear to him after working with the Tam boys last year. He can't wait to see some of you again and meet you new campers.

ALLI - HEAD GIRL

Alli is more than ecstatic to be back for her second summer at Mountain Camp Woodside! Alli is from Greenfield, Indiana and is currently in nursing school at the University of Indianapolis. She absolutely adores tennis, swimming, being outdoors, and corny jokes! (i.e. How do you have a party in space? You PLAN IT! (Like "Planet")) What Alli loves most about camp is seeing all of her campers making life-long memories and friends and experiencing all the unique activities offered at camp. She cannot wait to be back at Mountain Camp Woodside for another unforgettable summer!

DEMI - PHOTO SPECIALIST

Demi is trading in the New Zealand Winter for another amazing Summer at Mountain Camp Woodside! She can't wait to come back to camp after spending the last year completing her Bachelor of Media and Creative Technologies majoring in Design Media. Demi will be taking photos and creating weekly slideshows to make those camp memories last even longer! She can't wait to see all the old and new faces of MCW and make some more unforgettable memories!

KILIAN - EVENING PROGRAM SPECIALIST

Kilian is so excited to be back for a second summer! Kilian is currently working as an actor and director in England for young theatre groups. Kilian can't wait to meet all the campers again and sing at camp fires, so be prepared to join in loud and proud! Having been a colour war champion Kilian hopes to revive the Backstreet Boys and regain his title .... PURPLE AND BLUE!

LOGAN - ALPINER SPECIALIST

Logan can't wait to get back to camp for the summer!!! He is currently in his junior year of college at The University of Chattanooga studying for a criminal justice degree. In his off time he enjoys mountain biking and rock climbing in the beautiful mountains of Chattanooga Tennessee. Evening programs, camp fires, and color wars is all he has been able to think about since last summer and he is counting down the days till he is back at MCW!!!!!

JOE - SOCIAL MEDIA SPECIALIST

Joe is from Leeds, a large city in West Yorkshire and this will be his first year at Mountain Camp Woodside! He is currently in his final year studying Digital Film and Post Production at Staffordshire University and is planning on doing a masters degree at the beginning of the next school year. Joe has a passion for filmmaker and also enjoys playing rugby in his spare time. He can't wait for the summer to begin so he can join the MCW team and meet all the campers.

HOLLY - CAMP NURSE

Holly is from San Carlos and is a pediatric nurse supervisor at a clinic in the South Bay. Holly has lived in different states including California, Iowa, New Hampshire and Colorado, and also lived in France for two years. Holly has an energetic and adorable lab mix named Lindy who loves swimming and hiking. On the weekends, Holly loves going to Giant's games, concerts, and doing anything outdoors!

ALEXA - CAMP NURSE

Alexa Boubalos is a Registered Nurse from Belmont, CA. She is currently back in school, enrolled in the Psychiatric Nurse Practitioner masters program at UCSF. She hopes to work in pediatric psychiatry as a Psychiatric NP once she graduates! During the regular school year, Alexa works as the District Nurse for the Hillsborough City School District. When she's not catching up on school work, she loves to go for runs, make guacamole, hike, hang out with family/friends, and binge-watch shows on HBO or Netflix.

CAROLYN - CAMP NURSE

Carolyn Vaughan is a recent East Coast transplant from Hartford, CT. Carolyn grew up on Cape Cod, Ma and loves the ocean; spending her childhood sailing, building sandcastles and enjoying the beach. Now, living in the Bay Area with her family, Carolyn keeps busy running after her very energetic and curious 18 month old son! Carolyn has been a Registered Nurse for the past 8 years with a background in orthopedics, trauma and neurosurgery. She is looking forward to a great summer keeping everyone healthy and happy at Mountain Camp Woodside!

CHRIS.

This will be Chris' 5th year as a counselor at Mountain Camp Woodside! Chris is looking forward to seeing campers from last year, as well as meeting new faces! His favorite part about camp, is helping campers discover things they never knew they could do—hit the target in Archery, win a match in fencing, or even swim all the way across camp's Olympic Sized pool. Chris is devoted to his campers fun, while also maintaining Safety! Chris cannot wait to see all of the MCW Family again, and start another Brilliant Summer!!

REID.

Reid couldn't be more stoked to be back for her third summer at Mountain Camp Woodside! After having lived in 7 countries, she's found her home in the foggy haven that is San Francisco. When she's not working in the city you can find her surfing, camping, kayaking, bouldering, or hiking. Although she's spent the last two summers part of day staff, she's back and more ecstatic than ever to be part of the residential team. One of her favorite things about camp is as much as she hopes to teach and inspire the campers, the campers ultimately end up teaching and inspiring her just as much — if not more!

Caitlin is 21 years old and goes to college in Santa Barbara! Born and raised in Menlo Park, She went to through Las Lomitas school district and MA for high school. This is her second summer working at Mountain Camp and she is so excited to be a cub counselor again! She is currently studying education and hopes to be a 1st grade teacher. In between classes you can find her at the beach, spending time with friends and going on adventures! Throughout the year she works in a classroom with 1st graders in Santa Barbara. When she is home in Menlo Park, she also helps out in a 3rd grade class at Las Lomitas! She is so stoked for summer and meeting all the cub campers. She wants to inspire kids to try new things and embrace all things camp!

LIZ

Guess who's back? Yes, it's true. The infamous lizard impersonator and on command burper is back at MCW! Liz is returning to Mountain Camp Woodside for a second summer. Liz is from Hamilton, Massachusetts and is studying to be an elementary school teacher in Manchester, New Hampshire. She loves camp so much and cannot wait to go back and meet new campers and see returning campers! Liz's favorite part about camp has to be getting to know all of the campers and singing camp songs. She loves that campers are able to truly be themselves and aren't afraid to try new things. Liz is overjoyed to be returning to MCW and can't wait to see everyone!

GABRIELLE

Although Gabrielle looks barely tall enough to be an Alpiner, she is actually a counselor who is SUPER EXCITED to come back to MCW for another year! Also holding a dual citizenship with France, she enjoys long walks on the beach and copious amounts of cheese and bread. She is currently pursuing her BFA in Musical Theatre with minors in Performing Arts Management and Health Science. Along with music and the arts, Gab loves adventuring, all things fitness, eating chocolate cake, large dogs, enthralling games of capture the flag, and SUMMER CAMP.

GEORGIA.

Georgia is a 20 year old Dance and Education Studies student from Liverpool (the hometown of The Beatles!). Georgia has performed at Disneyland Paris and on board an Italian cruise ship on the Mediterranean, she has also danced for the BBC as part of the 'Strictly Come Dancing' and 'Dancing with the Stars' team and danced back up for boy band 'Backstreet Boys'! The Little Mermaid is her all time favourite Disney movie and she has always wanted to be a mermaid!

MEGAN.

This is Megan's second year at Mountain Camp Woodside and she is so excited to get to know all the campers and play all her favorite camp games again. Currently she is an undergraduate at Vanderbilt University studying child development and pre medicine. In her free time, Megan loves cooking, reading, spending time outside, and swimming. She can't wait to meet all her campers and have the an awesome summer.

DOM

Dom is studying Sport and Physical Education at the University of Bedfordshire, England, as he looks to pursue a career in Sports Lecturing in Colleges. Dom has a huge passion for all things Basketball, and hopes he can enthuse as many campers to love the game as much as he does. Dom helped make a mark with disabled students by creating the university's very first wheelchair basketball team which was entered into the National Championships. He has embraced positions with the Student Union to develop the success, participation and inclusion of as many students at the University to partake in any activity they can think of! Dom will implement that love for sports and activities to the campers at MCW. He's looking forward to bringing out each camper's true potential and smile in a exciting and safe way this summer!

CARYS

Carys is flying to the states all the way from Newcastle, England. She is currently studying English and Philosophy at the University of Nottingham. Carys aspires to be a teacher when she finishes university, but she can't decide what subject she would like to teach, as she loves lots of different subjects and activities! Carys is looking forward to bringing out the best in every camper and helping them shoot for the stars!! This is Carys' first summer at MCW and she cannot wait to get opening campfire under way!
DOM L

Dom is a fun and outgoing individual who is currently studying Sport and Physical Education at Cardiff Metropolitan University with the aspiration of becoming a PE teacher. Dom is originally from Nottingham in England and will be flying to the united states to have an amazing summer at Mountain Camp Woodside! Dom's main hobbies include playing for his university football (Soccer) team, keeping fit and socialising with friends. Dom participates in a variety of sport and physical activity but his main aim is to influence the enjoyment and engagement of others in any activity, with the main emphasis on FUN! Dom is planning on bringing this enthusiasm to camp to make it a truly memorable summer for all the campers.

AL

Al is twenty years old from Norwich, England and this is her first summer at Mountain Camp Woodside. She is a travel enthusiast and has recently explored Australia, South East Asia and Eastern Europe. Al loves meeting new people and isn't afraid to try new things. (She also has a passion for eating far too much cheese!) This year she will be going to The University of Sheffield to study social science, and has ambitions to one day become a child psychologist. Al is so excited to be part of the Mountain Camp Woodside team and cannot wait to be toasting marshmallows by the campfire and having the best summer ever!
SARAH

Sarah is 19 year-old Los Altos native and absolutely cannot wait for her first summer at Mountain Camp Woodside! She is a Priory alum and a current sophomore at Wellesley College where she runs varsity cross-country and track, and plans to study English and Education. In her free time, she loves exploring nature, tutoring students in the Boston area, and watching stand-up comedy. Sarah is so excited to be part of the MCW team and looks forward to meeting her awesome campers!

EAMONN

Eamonn is from Pocklington, a small market town in East Yorkshire and this will be his first summer at Mountain Camp Woodside! He is currently studying veterinary science at the University of Liverpool and hopes to qualify as a small animal vet. Eamonn loves being in the outdoors and meeting new people. His main hobbies include playing rugby, football (soccer) and cycling. Eamonn can't wait to join the MCW team and meet all the campers this summer!
ELIE

Elie was born and raised in Redwood City, California. She now goes to school at Washington State University in Pullman, Washington. She is going to be a senior at college and is majoring in genetics and cell biology. Ellie's hobbies are reading, science, art, playing guitar, going on adventures and hanging with her friends. Her favorite childhood past time was school as well as going to camp and having a blast. She is very excited to be a counselor this year.

LISA

This is Lisa's first year at Mountain Camp Woodside, but she couldn't be any more flattered about becoming a part of the team! The 20 years old German is studying in her first year of university. Taking her whole bachelor education in Denmark and travelling for the past year around Europe, she can't wait to finally discover the US. After being an au pair in Ireland and working in a summer camp in Romania, Lisa didn't want to miss out being surrounded by kids for another summer. She is really excited to get to know all children and seeing them having the summer of their life, growing with each activity and making friends for life! Aaaand there's no such thing in life, than music for her. She LOVES to play the guitar and sing so you most likely find her animating you to sing one of the silly camp songs or hearing her at the camp fire to rock the stage together with you! Lisa can't wait to share the summer with you and is counting down the days until starting at MCW!
MACKENZIE

This is Mackenzie's first summer at MCW and is very excited to meet everyone. She is from sunny San Diego, California but grew up in Palm Springs. Mackenzie attends a community college in Oceanside and is studying to get a degree in Grantwriting! She loves the outdoors and meeting new people, but is known more for always smiling and her bright blue eyes. Mackenzie has always worked with children so she can't wait for the new adventures and memories to come!

JESS

Jess is coming to MCW all the way from Liverpool, England, and is currently studying English Literature & History at the University of Edinburgh. This will be Jess's first summer at Mountain Camp Woodside, and she's California dreamin' of those campfire-toasted marshmallows! She can't wait to meet all of her fellow counsellors and make sure each and every camper has the summer of a lifetime. In her spare time, Jess likes to hang out with her friends, keep fit at the gym, go to the theatre and support her local football team, Everton FC! A keen traveller, Jess loves seeing as much of the world as she possibly can (or at least as much as her bank balance will allow her to..). She hopes to explore a completely different side of America through her experience at Mountain Camp Woodside, and have the best summer ever meeting new people and travelling to new places!

WILLIAM

William is a bubbly and enthusiastic character, and will be flying all the way from Nottingham, England, to spend his summer in the States. Currently he is studying chemistry and is in his final year of university, but has ambitions to become a teacher when he finishes. He loves playing sport and in particular soccer, and cricket, which he has represented his county as well as his university in.


GENET

Genet is 19 years old and from San Jose, California. She is now attending Washington State University. She is going to be a sophomore and majoring in Criminal Justice. Genet's hobbies include reading, going on adventures, hanging out with friends and playing with dogs. As a child Genet's favorite activity were playing soccer, coloring, and dancing. She is looking forward to seeing campers have a great summer, try new activities, and make new friends. She is super excited to be a counselor this year!

KEEFE

Keefe is chasing after the California dream this summer, hailing from New York and more recently residing in Ohio. He attends Bowling Green State University in northwest Ohio where he is studying political science and communication. Keefe writes for his school newspaper and enjoys skiing, bike riding, hiking, and seeking adventure in everyday life with his enthusiast and fun-loving personality. As a child, he loved legos, fort building, and using his imagination outside. Although this will be his first summer at MCW, he's no rookie to summer camp as a whole – he attended overnight camp from ages 12 to 15, and worked as a counselor from 16-18. He loved camp when he was younger because it allowed him to truly be a kid and let the worries of life disappear amongst friends.

LIZ

Liz will be joining camp staff right after her college graduation! She has been studying history and social studies, as well as secondary education and hopes to be teaching in a classroom for the 2017-18 school year. This is her first summer as a counselor, as well as her first summer at camp! She is super excited to move back down to California, after living in Washington for more than ten years. She loves to sing, watercolor, tell jokes, and splish-splash in the pool! Her absolute favorite things to talk about are history and her cat, Willow. Most important of all, she can't wait to spend summer at MCW!!

ABBEY

This will be Abbey's first summer at Mountain Camp Woodside and she is so excited! You will probably recognize her by her unending laughter and freckled face. Abbey is originally from Salt Lake City, UT but is currently studying nursing at Ohio State. She hopes to become a pediatric nurse practitioner in the future. Some of her hobbies include hiking, kayaking, swimming, baking, volunteering, and hanging out with friends. Abbey is looking forward to meeting everyone at MCW and spending the summer having fun outside!

JEAN

This is Jean's first time at MCW and she is sooooo excited to meet everyone for the first time. Jean is from a place called Galway in the west of Ireland. She is currently in her second year of university, studying early childhood education and she hopes to eventually become a school teacher in the future. Jean absolutely loves the outdoors and has a passion for swimming,tennis and hockey to just name a few. Jean is very bubbly and energetic and loves to travel. She has worked with children in Spain and France and she spent last Summer in Missouri working at an underprivileged camp. She had the time of her life and cant wait to experience a camp in California and to eat what she thinks is the most amazing american food....SMORES

JULIA

Julia was born in Brazil but was raised in Menlo Park! She is 20 years old and currently a student at Chico State University to become a dietitian! Her hobbies include swimming, hiking, watching Netflix and hanging out with her friends and her teammates. When she is not at school, you can catch her at the pool. She was a competitive swimmer for six years and to this day is still a water polo player. Her favorite childhood activities during summer were cycling and swimming. She loves to draw, doing arts and crafts and editing videos. She is very excited to meet all of her new campers!

BRANDON

Brandon is ready for the summer of a lifetime at Mountain Camp Woodside! Brandon resides in Bowling Green, Ohio, where he also studies Political Science at Bowling Green State University. Brandon likes to go on road trips with his friends and see new places every chance he gets. Brandon considers himself to be a veteran when it comes to summer camp, having attended summer camp for 5 years in Ohio before becoming a counselor at that camp for 2 summers. Brandon can't wait to expand on his summer camp experience at Mountain Camp Woodside! Brandon's favorite part about camp is trying new things that are outside of his comfort zone, and learning more about himself through the relationships he builds with so many great people!
BEN

Ben is a chirpy Kiwi who is eager to come work his first summer at Mountain Camp Woodside. He is an outdoors enthusiast who enjoys activities like hiking, camping, mountain biking and cycling absurdly long distances between one place and another. Having spent the last two years studying at the New Zealand School of Music in Wellington, he's also very keen to put his ukulele and singing voice to good use around the fire and teach a few chords along the way. He particularly looks forward to sharing his adventures around the trails of Portola Valley with the campers and fostering a passion for exploring!

DIRK

This is Dirk from Bochum a small city in west of germany. Last year he finished his high school successfully and now he is on the way to study IT- Security in his hometown Bochum. But before starting study he cannot wait to spent an awesome summer in sunny California. In his free time he loves to play volleyball, soccer or picking up the guitar. Dirk can´t wait to come to MCW for the first time and to spent beautiful hours on the camp fire with all campers.
SARAH

This is Sarah's second year at camp and she is stoked for another summer with the cool kids of MCW! She is from Menlo Park, but is currently a student at UC San Diego as a physiology and neuroscience and marine biology major with an art history minor. When Sarah finishes school she wants to be a pediatrician, but her plans change all the time so she will see where the wind blows. She loves running around (especially while playing basketball,) Disneyland, Pixar movies, art, singing songs and doing the hokey pokey. You will likely find her breaking into song, making unsuccessful (but enthusiastic!) jokes or jumping up and down in place.

JOE

Joe is 19 years old and lives in a very small town in Derbyshire, in England. He has lived there all his life but loves to travel and see the world. Joe has recently finished a two year course in Travel & Tourism and currently works with children at an indoor play centre. He loves acting, socialising with friends and all sports, but none more so than football (Soccer) and has had a season ticket at Derby County Football Club for 11 consecutive years. This is Joe's first summer at MCW and he couldn't be anymore excited. It is a great chance for him to both learn and teach new skills as well as meet new people and make life-long friends, just like how he experienced summer time growing up in England.

NAJAT

Najat is coming all the way from Maryland as she joins the staff at MCW for the first time!! She is Moroccan, and currently pursuing her masters in experimental psychology, in Alabama. She is elated to meet all the new counselors, and kids this summer! She is a taco connoisseur, and loves to dance in her room. She loves all things chocolate, puppies, and being by the water! She can't wait to show her passion for soccer and teach all the kids soccer tennis! You won't be able to miss Najat, because you can spot her curly hair from a mile away. WHO HAS TWO THUMBS AND IS EXCITED FOR CAMP???!!! THIS GIRL!!!!

CARRIE

Carrie has just finished her freshman year of college at Sonoma State University as a liberal studies major with a concentration in physical science. She is working to become an elementary school teacher and currently is an in-home care aide for the elderly. Adjusting to life outside of her hometown of San Jose has been a fantastic learning experience away at college! Her favorite pastime is skating with Sonoma County Roller Derby, watercolor painting, and going to rock concerts. In high school, Carrie best enjoyed dancing and spinning flags as the captain of her color guard in marching band as well as playing flute in the symphonic band. She is elated to have the opportunity to play in the sun all day at camp. It will be a fantastic, memorable summer!!!

AOIFE

Aoife is travelling to the states all the way from a county in Ireland called Tyrone! She has a passion for music, running, cycling and all things active and outdoors. This is Aoife's first year to work at Mountain Camp Woodside, but her second at an American summer camp. Last summer, she worked as a special needs counsellor at an autistic camp in New Jersey, which she described as one of the most challenging yet rewarding experience of her life. Aoife loves to travel, meet new people, learn about different cultures and making a positive difference! Aoife is coming to work at mountain camp Woodside this summer to try something different and gain a unique camp experience.

ABBY

Abby is from Menlo Park, California. She's graduating from Menlo-Atherton High School and going to Occidental College in the fall. She loves acting, singing, directing, and all things theater! Outside of drama, Abby spends her time learning to knit, baking cookies, playing board games, and going to Disneyland. She can't wait to join the Mountain Camp Woodside staff with her older sister, Sarah!
SABRINA

This year is going to be Sabrina's first at Mountain Camp and she is very excited to meet everyone. She is originally from the Bay Area but is currently studying health at the University of Edinburgh. In her free time she enjoys cooking, hiking, reading, and hanging out with friends. She can't wait for camp to begin and to meet all of you!

BETH

This is Beth's first year at MCW, and she is flying all the way from Derbyshire, England. She currently works in a bingo hall. She is also a fully qualifed hairdresser after studying Hairdressing at Chesterfield College for 3 years. Beth is a massive fan of Disney and theres not many Disney songs she doesnt know, as you will probably hear her singing random Disney songs around the camp. She cant wait to be part of a funfilled summer at MCW working alongside different people from around the world. Beth will be working as one of the cub counsellors this year and cant wait to meet all the wonderful children and make some amazing memories with the campers.

MARIE

Marie is thrilled to be joining the MCW team for her first summer! She is from Traverse City, MI, and just finished her third year at Michigan State University studying Special Education. Marie is a member of Capital Green A Cappella at MSU, and she loves to sing and play instruments in her spare time. She also enjoys hiking, swimming, biking, and climbing in beautiful Northern Michigan. She is so pumped to meet all the campers and to have an unforgettable summer!

MEGAN

This summer will be Megan's first year at Mountain Camp! She is looking forward to creating a memorable experience and getting to meet everyone. When she is not involved in environmental activism or research project, or designing a product, she can be found training for a half-marathon or gorging on local vegan cuisine. As a Palo Alto native, Megan enjoys exploring the bay areas rich biodiversity and landscapes with friends. Also a recent Priory alum, Megan is eager to show campers what the beautiful campus has to offer. This upcoming fall, she will attend Scripps college studying the environment, economics and politics. Megan can't wait to meet all of you this summer!

YURI

Yuri is a Bay Area California native and photography enthusiast who is joining mountain camp for her first year as a Cub Counselor! As a recent Priory graduate, Yuri is excited to head out to Austin for college. She hopes to major in Political Science. In her free time Yuri can be found out exploring cities, drinking bubble tea, eating fried tofu, and capturing moments through her artistic eye for photos. As a social activist, Yuri lives through spreading a message of inclusivity and equality for all. She loves to spend time outside, meet new people and is thrilled to have the opportunity to share her summer surrounded by the energy of campers and natural beauty of the great outdoors.

JACK

Charles "Jack" Stoksik was born in Hobart, Tasmania but moved to Palo Alto when he was in elementary school. He will be a freshman at UCLA this Fall studying both math and economics. He is an avid soccer player and when he is not outdoors playing he spends time drawing, studying, or playing Rocket League. Charles attended Mountain Camp for four years when he was younger and learned all sorts of outdoor activities including mountain biking, fishing, archery and volleyball.